Tea Party ideas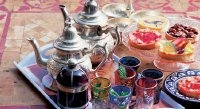 Like all mothers, I want to have the best parties for my kids and for my family. Not only do I want them to enjoy themselves, but I want them to have bragging
rights at school as well. I want all of the kids to know that they have the best mother in the world. So when my daughter had her birthday party, I knew I was going to make it something special. Like all little girls, she
loves to pretend to have tea parties. I decided to use tea party ideas to plan out the perfect birthday for her. Tea party birthday ideas are fun, but they are a little bit more difficult to
plan out that other parties. You see, so few people actually have tea
parties, so you have to plan from scratch. You can not borrow any of
your ideas from parties that other parents have thrown. Tea party ideas
are especially difficult when you are dealing with a little kid. After all,
kids love to play tea but they cannot be trusted around hot beverages
by themselves. They might hurt themselves!

My tea party idea for her was to have all the trappings of afternoon tea
except for the actual hot tea. We had small cakes and cookies, tea
cups and pitchers, and bread and jam. I planned the whole party from
a book of children's tea party ideas. They suggested having juice
instead of tea. I thought this was a fine idea, but also included iced tea
for the kids who wanted to try. Many of them did!

The tea party ideas for my daughter worked out so well that I decided
to have a party for my own friends. Of course, planning out a grown-up
tea party is much easier than planning one for kids. I bought some of
the best, most delicious tea that I have ever tried. In addition, I had
small tea themed gifts to give each of my guests.
From there, all of the tea party ideas were pretty standard. I had all of
my friends over, served them cakes and muffins and sfinj, and poured out
some delicious tea. We sat there sipping tea and talking about this and
that. It really was a fairly standard social engagement, but the fact that
we called it a tea party lent it an air of elegance. Lets face it, whether
you are a child or an adult, tea party ideas are mostly about playing
make believe. Kids are great at that, but grown-ups are good at it too!
you ask what is that sfinj, well sfinj is Moroccan doughnuts rings very simple to make.
Here is the recipe for Moroccan Sfing
ingredients:
1 cube instant yeast (50 grams)
2 tablespoon sugar
1Kilo flour (4-5 Cups)
1 tablespoon salt
frying oil
crystalline sugar
How to make Sfinj
Place the yeast in a mixing bowl with 2 tablespoon of the sugar, and the flour and mix well. In a large bowl mix the rest of the flour, and 1 tabs oil.
Gradually pour the water, until you get soft dough, which easily gathers into a ball. Knead the dough by hand for about 15 minutes, until it is still stick on your hands
Cover the bowl with towel , and let it sit for an hour and a half, in a warm place, until the dough doubles in volume. take some dough Make a hole in the center of each circle, and pull from all sides to create a ring. Heat oil to high heat and fry the rings on all sides. When golden blonde brown, take out and lay on absorbing paper.
Serve not too hot sprinkled with crystalline sugar, icing sugar or honey.
There isn't anything like amazing wedding favors to top off any big bash. Whether you're searching for party favors, themed favors, or bridal shower favors, the web is the spot for you to begin your search!